Features in Detail | Web-Based Access | Technical Details | Quick start | Order Inquiries | Downloads
---
Introducing the first commercially available remote monitoring station for mosquitoes.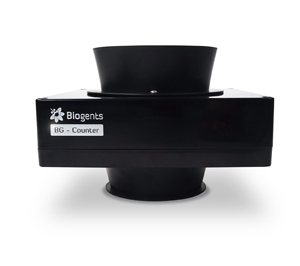 Spanish video on Youtube
Portuguese video on Youtube
Biogents offers the first commercially available high tech remote monitoring device for mosquitoes, the BG-Counter 2.
The device is place on top of a BG-Sentinel or a BG-Pro mosquito trap. The BG-Sentinel was invented in 2004 and has become is one of the most used mosquito traps on the professional market. It has been used by researchers and health authorities world wide. There are hundreds of articles published in peer-reviewed journals about this trap. Click here for a collection of scientific studies. The BG-Pro is a new modular trap type that is at least as efficient as the BG-Sentinel trap, but has several operational advantages, as pointed out in a recent study.
The BG-Counter 2 automatically differentiates mosquitoes from other insects entering the trap, counts them, and wirelessly transmits the results to a cloud server. Via an web application you can manage your BG-Counter and get insights into daily activity patterns, adult density indices, population dynamics and effectiveness of your control activities.
The BG-Counter 2 enables real-time measurements as well as prediction models and historical analysis of infested areas. Vector control professionals can now establish surveillance programs with unprecedented accuracy and temporal resolution of data, overcoming labour constraints associated with manual inspection.
The BG-Counter 2
reports mosquito counts remotely from everywhere in the world to an internet web page
samples local environmental data such as temperature, relative humidity, and ambient light
lets you manage the trap and the application of CO2 remotely
reduces costs associated with manually checking mosquito traps
The BG-Counter 2 is the next generation version of the BG-Counter. It offers several improvements over the previous model such as
an internal antenna
improved protection against corrosion and environmental influences
a better insect classification accuracy through improved algorithms
a 4G Cellular Communication Module that works on the LTE cellular network and is not affected by eventual sunset of a 3G network.
a BG-Pro trap instead of a BG-Sentinel
Right: BG-Trap Station (sold separately) with BG-Counter 2, BG-Pro Counter version trap and CO2 source. The trap station with BG-Counter can run on solar power (optional solar panel not displayed here).
Left: Data are transferred to a web page that can be accessed via PC, smartphone or tablet.
Demo page with live data from several BG-Counters:

(after accessing the webpage, click on "Start BG-Counter Demo")
---
Features in Detail
The BG-Counter 2 counts mosquitoes while they are sucked into a Biogents trap and differentiates them from other insects or dust particles. Mosquito counts with an accuracy of 90% have been established in field tests when working with CO2 as an attractant. Up to 5 mosquitoes per second can be recorded. The data can be accessed by a web application and alerts are retrieved in real-time.
The BG-Counter 2 can also sample local environmental data such as temperature, humidity and light.
The effectiveness of control measures can be validated immediately.
A web application allows you to remotely switch the traps on and off. It also allows you to set up varying time schedules to run the traps and set up application times of CO2.
The BG-Counter 2 minimizes maintenance effort: The can run on solar power and is self-sustaining. It is robust and well protected against weather.
The BG-Counter 2 includes:
1x mobile module,
1x SIM card for data transmission,
1x fan adapter cable,
1x battery cable,
1x mains supply,
1x CO2 pressure reducing regulator with output pressure of 2 bars,
1x CO2 tube,
1x BG-Pro Counter version (1x funnel net, 2x catch bag, 1x inner cylinder with upper part and lower part with 12V fan, 1x trap body, 1x carrying bag, 1x tripod)
---
Web-based Access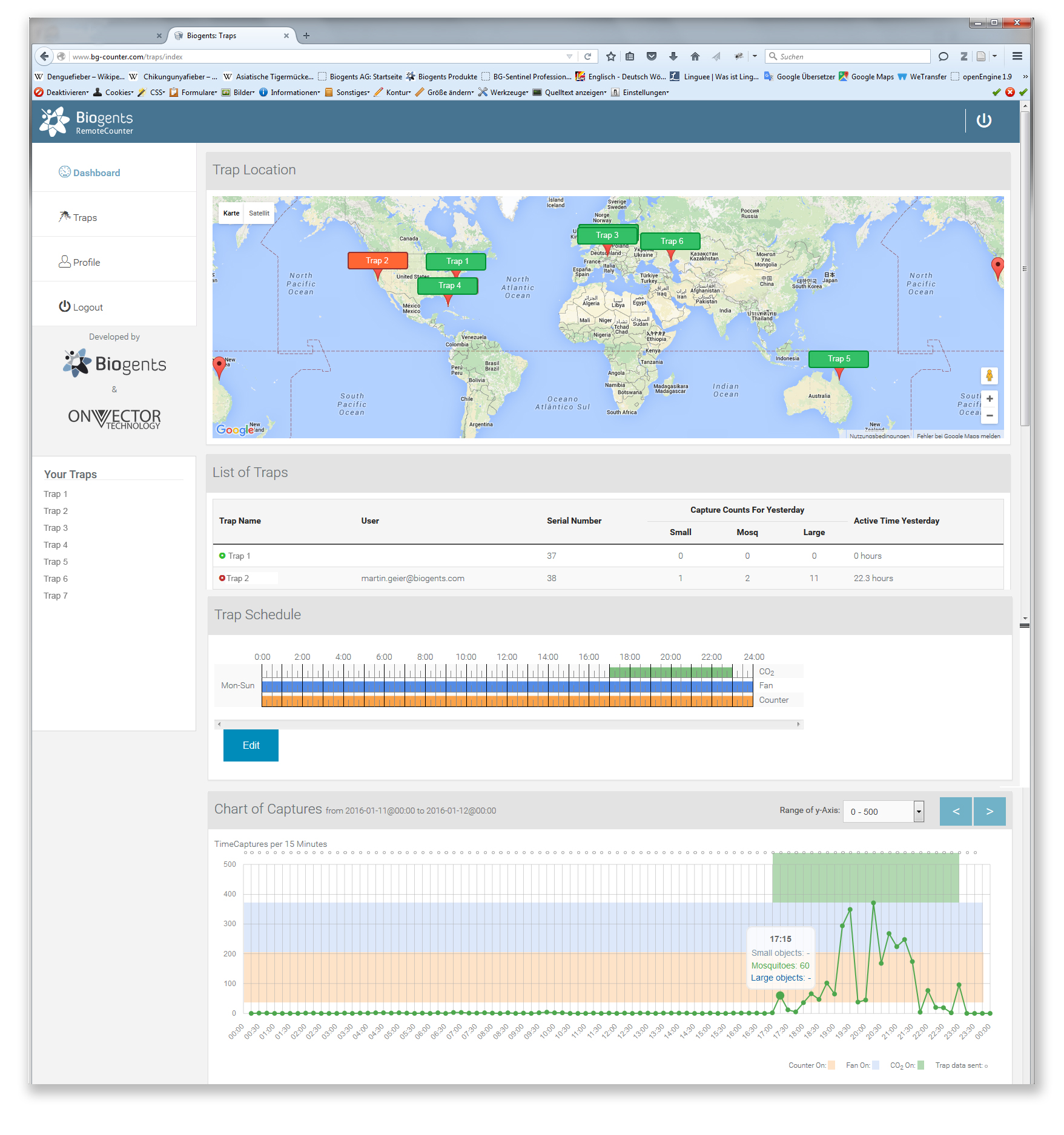 The BG-Counter 2 system is supported by a web-based database for storage of mosquito counts, geospatial and environmental data. The data base is automatically updated with the data constantly generated in the field.
The data can be accessed, displayed and analyzed by the end user in a cloud-based dashboard. They can also be exported to Excel at the push of a button. The intuitive graphical user interface can be accessed from PCs as well as smart- phones and tablets.
The image on the right side depicts a combination of several displays of the user interface.
---
Technical Details

The patented insect sensor consists of arrays of infrared LEDs and light detectors that provide reliable and sensitive detection and differentiation of moquitoes from other objects entering the trap.
The heart of the BG-Counter 2 is a highly integrated printed circuit board which incorporates:
An infrared sensor,
environmental sensors for temperature, relative humidity and ambient light,
a cellular module for communication with the web server,
an SD card for onboard data storage, fan and CO2 valve control,
two powerful microprocessors for control and communication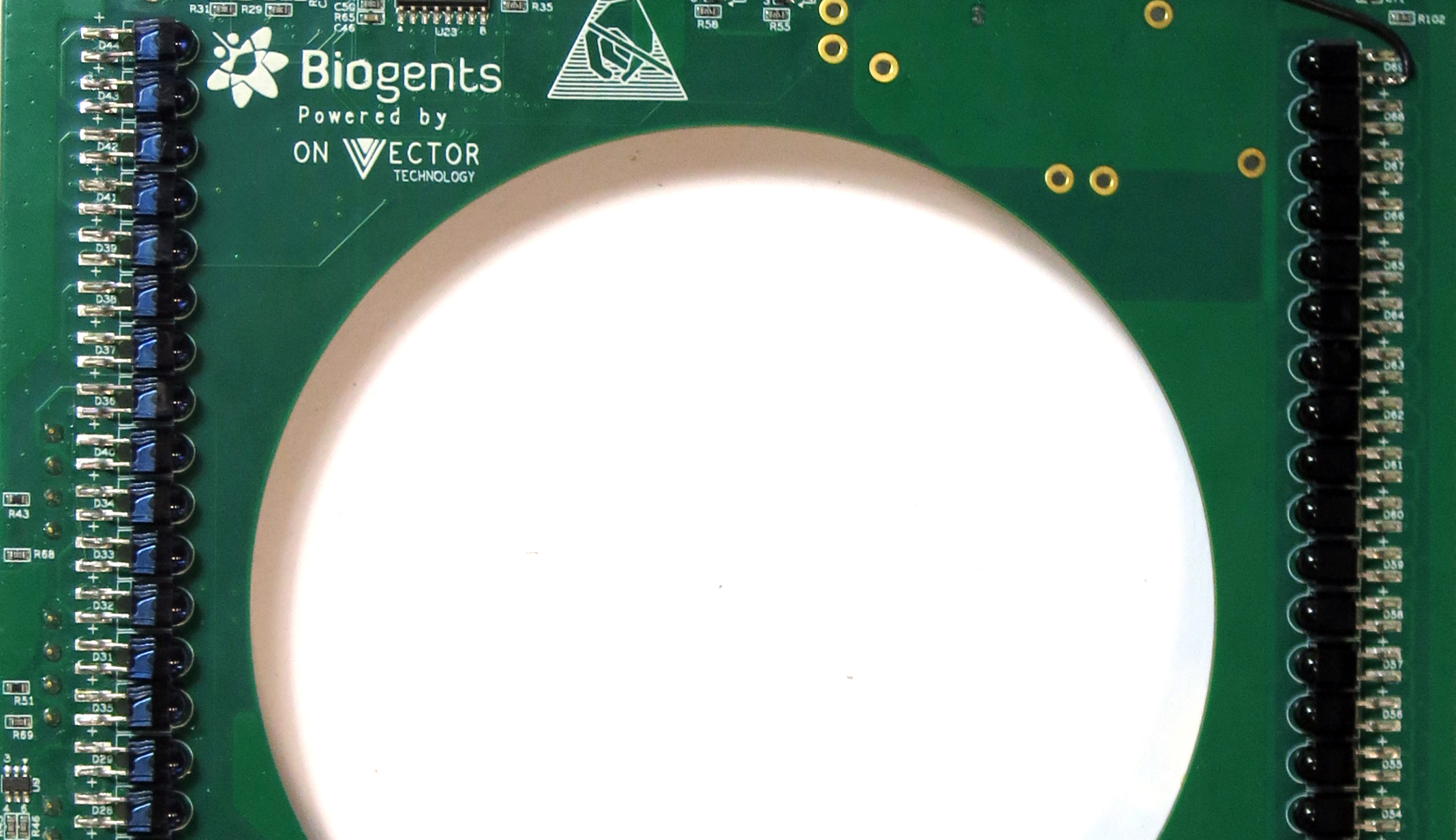 ---
---
BG-Counter 2 and BG-Trap Station: the Optimal Combination
BG-Trap Station
Biogents' new BG-Trap Station is a robust and ideal shelter for your BG-Counter 2.
The BG-Trap station
is made of stainless steel
protects your BG-Counter 2 from environmental conditions
can be attached to any type of terrain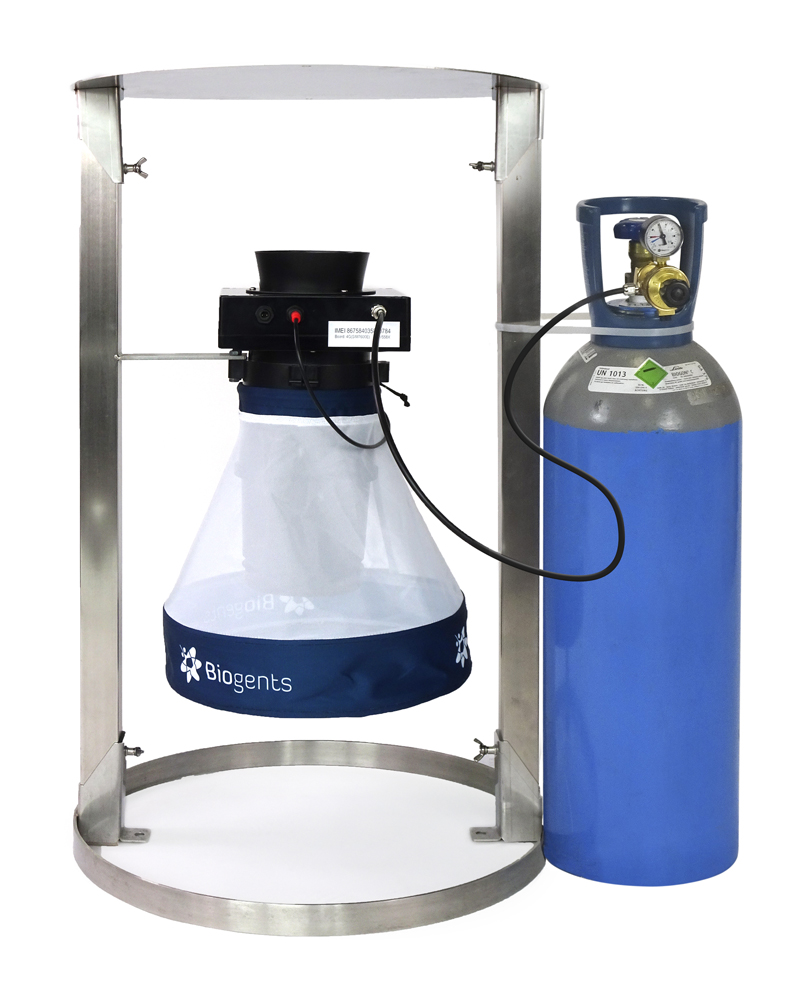 ---
Order Inquiries
Interested? For larger order inquiries, please contact sales@biogents.com
For small order quantities you can order conveniently via our webshop for researchers >
---
Downloads

Manual for the BG-Counter >>

Manual for the BG-Counter 2 >>

Info flyer about the BG-Counter 2 >>

Trouble-shooting: More counts than catches? >>

Flyer about the new BG-Trap Station for the BG-Counter 2 >>

CE declararion of conformity and frequency bands of BG-Counter 2 >>
Publications, Customer Experiences, Media:
Media:
2020/1/26, Article in the Kaleej Times, UAE; Ashwani Kumar /Abu Dhabi
This article is about Biogents traps and BG-Counters to be deployed across UAE
440 smart mosquito traps to be deployed across UAE
Tadweer has developed an effective, efficient and sustainable way to trap mosquitoes.
More than 400 solar-powered smart traps will be installed across the country from February 1 to catch mosquitoes and thus keep a check on the outbreak of diseases like malaria, dengue, Yellow Fever and West Nile Virus, an official from Abu Dhabi Waste Management Centre (Tadweer) said.
Read the full original article in the Kaleej Times >
---
Publications:
Brian J. Johnson, Russell Manby, Gregor J. Devine (2020)
Further evidence that development and buffer zones do little to reduce mosquito nuisance from neighboring habitat.
Journal of the American Mosquito Control Association, 36(3):204–207, 2020
DOI: 10.2987/20-6951.1
Brian J. Johnson, Russell Manby, Gregor J. Devine (2020)
What Happens on Islands, doesn't Stay on Islands: Patterns of Synchronicity in Mosquito Nuisance and Host-Seeking Activity between a Mangrove Island and Adjacent Coastal Development. Springer Science + Business Media, LLC, part of Springer Nature 2020, Urban Ecosystems
https://doi.org/10.1007/s11252-020-00998-0
Keira J. Lucas, Alexandria Watkins, Nate Phillips, D. John Appazato, and Patrick Linn (2019) The Impact of Hurricane Irma on Population Density of the Black Salt-Marsh Mosquito, Aedes taeniorhynchus, in Collier County, Florida. Journal of the American Mosquito Control Association: March 2019, Vol. 35, No. 1, pp. 71-74.
https://mosquito-jamca.org/doi/10.2987/18-6793.1
Mark E. Clifton, Christopher P. Xamplas, Roger S. Nasci, and Justin Harbison (2019) Gravid Culex pipiens Exhibit A Reduced Susceptibility to Ultra–Low Volume Adult Control Treatments Under Field Conditions. Journal of the American Mosquito Control Association: December 2019, Vol. 35, No. 4, pp. 267-278.
https://mosquito-jamca.org/doi/10.2987/19-6848.1
Reference: Pruszynski C (2016) The BG-Counter: A New Surveillance Trap that Remotely Measures Mosquito Density in Real Time. Wing Beats 27:1, 13-18.
---
Presentations:
Video presentation of the Collier County Mosquito Control:

  Rise of the machines: BG-Counters' expanding role in CMCD's mosquito surveillance program
Collier Mosquito Control District initiated its BG-Counter program in 2017 with 10 traps. As of the 2020 field season, we had one of the largest BG-Counter networks in the country, with 27 permanent traps placed throughout the District. This presentation will discuss the District's experience with this technology, including an assessment of labor inputs vs. outputs, as well as the lessons we've learned in scaling up our program. We'll also introduce side-by-side data from our weather station pilot program, which was designed to enhance the value and utility of the information generated by the BG-Counters.
Presenter: Rebecca Heinig, Collier Mosquito Control District
Co-Author: Jorge Puente, Collier Mosquito Control District
Co-Author: Peter Brake, Collier Mosquito Control District
Co-Author: Nathan Phillips, Collier Mosquito Control District
Co-Author: Keira Lucas, Collier Mosquito Control District
Sacramento-Yolo Mosquito and Vector Control District:

Reed M., Wheeler S., Dritz D., Samer Elkashef S.: Utilizing New Technology for Mosquito Surveillance: The BG Counter Trap- A Game Changer, oral presentation at the AMCA 2019
Collier District, Mosquito Control:

 Kartzinel M., Clifton M.: Real-Time District-Wide Surveillance with the Biogents BG-Counter;
presentation at the AMCA 2018 in Kansas City, MO
Placer Mosquito & Vector Control District Roseville, CA:

 Boisvert M.: BG-Counter : A very efficient multi-task tool;
presentation at the AMCA 2018 in Kansas City, MO

Boisvert M.: Study of the behavior of Culex tarsalis in a rice field environment using a BG-Counter; presentation at the AMCA 2019 in Orlando, FL
Calcasieu Parish Mosquito Control:

 Willis S.: Use of the Biogents BG-Counter With Gravid Mosquitoes and the Efficacy of Aerial Applications for Nuisance Mosquitoes;
presentation at the ALMCA 2017 in Covington, LA
First poster presentation:
Geier et. al (2016) A smart Internet of Things (loT) device for monitoring mosquito trap counts in the field while drinking coffee at your desk. https://www.researchgate.net/publication/294580125
DOI: 10.13140/RG.2.1.5156.5843