Features in Detail | Web-Based Access | Technical Details | Quick start | Order Inquiries | Downloads
---
Introducing the first commercially available
remote monitoring station for mosquitoes.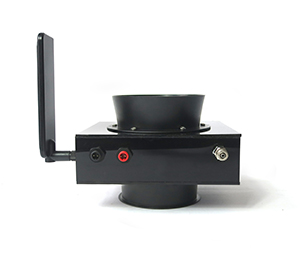 Biogents offers the first commercially available remote monitoring device for mosquitoes, the BG-Counter. The device is combined with the BG-Sentinel mosquito trap from Biogents, a trap widely used by professionals for the monitoring and surveillance of mosquitoes.
The BG-Counter automatically differentiates mosquitoes from other insects entering the trap, counts them, and wirelessly transmits the results to a cloud server.
Via an web application you can manage your mosquito traps and get new insights into daily activity patterns, adult density indices, population dynamics and effectiveness of your control activities.
The BG-Counter enables real-time measurements as well as prediction models and historical analysis of infested areas. Vector control professionals can now establish surveillance programs with unprecedented data density and accuracy, overcoming labour constraints associated with manual inspection.
The BG-Counter reports mosquito counts remotely from everywhere in the world to an internet web page,
samples local environmental data such as temperature, relative humidity, …,
lets you manage the trap and the application of attractants remotely, and
reduces costs associated with manually checking mosquito traps.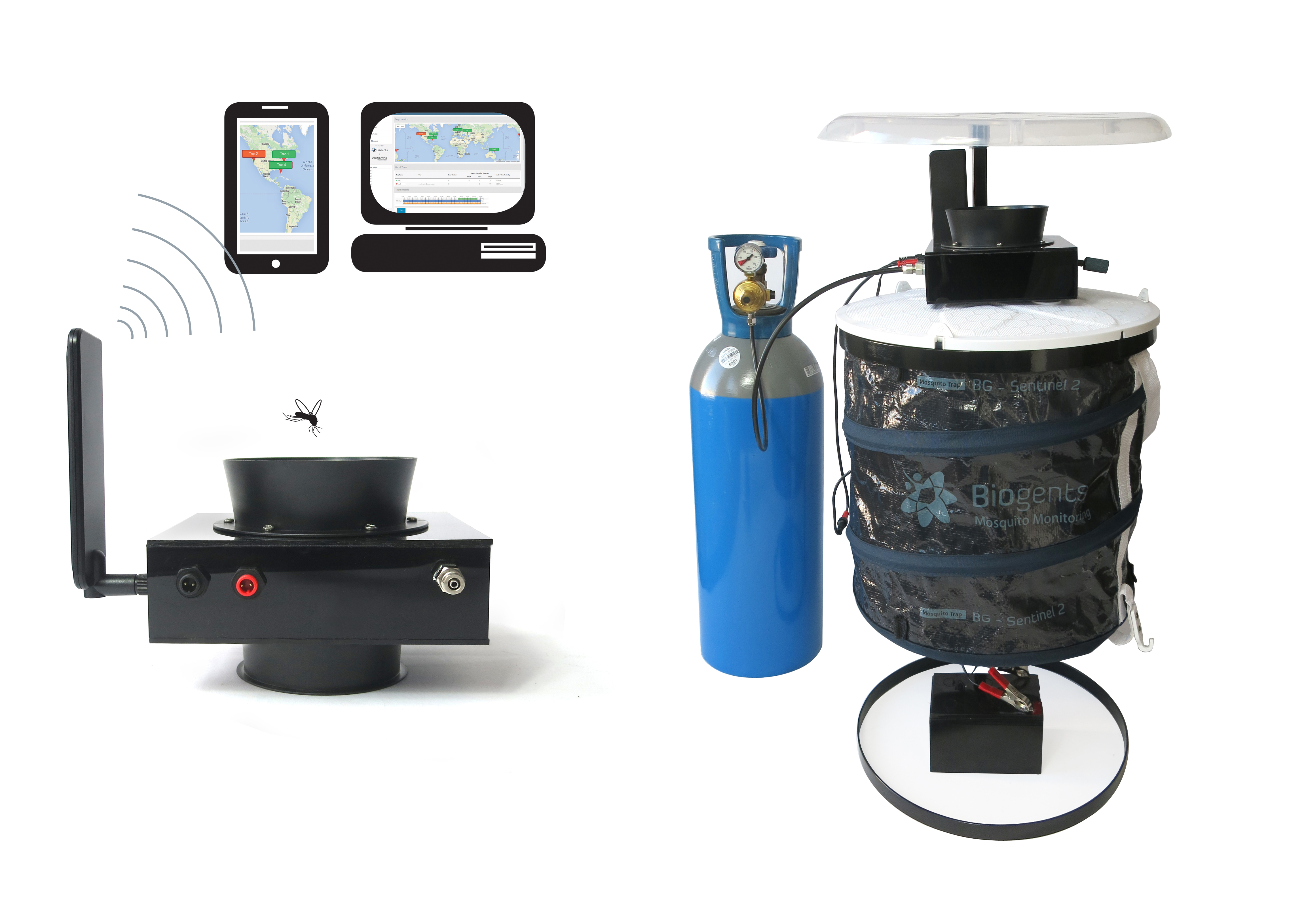 Left: BG-Counter station with BG-Sentinel 2 trap, CO2 source, battery and shelter. The station runs on solar power (the solar panel is not displayed here).
Right: Data are transferred to a web page that can be accessed via PC, smartphone or tablet.
---
Features in Detail
The BG-Counter counts mosquitoes while they are sucked into the BG-Sentinel trap and differentiates them from other insects or dust particles. Mosquito counts with an accuracy of 90% have been established in field tests when working with CO2 as an attractant. Up to 5 mosquitoes per second can be recorded. The data can be accessed by a web application and alerts are retrieved in real-time.
The BG-Counter can also sample local environmental data such as temperature, humidity and light.
The effectiveness of control measures can be validated immediately.
A web application allows you to remotely switch the traps on and off in the field. It also allows you to set up varying time schedules to run the traps and set up application times of attractants.
The BG-Counter minimizes maintenance effort: The trap runs on solar power and is self-sustaining. It is robust and well protected against weather.
---
Web-based Access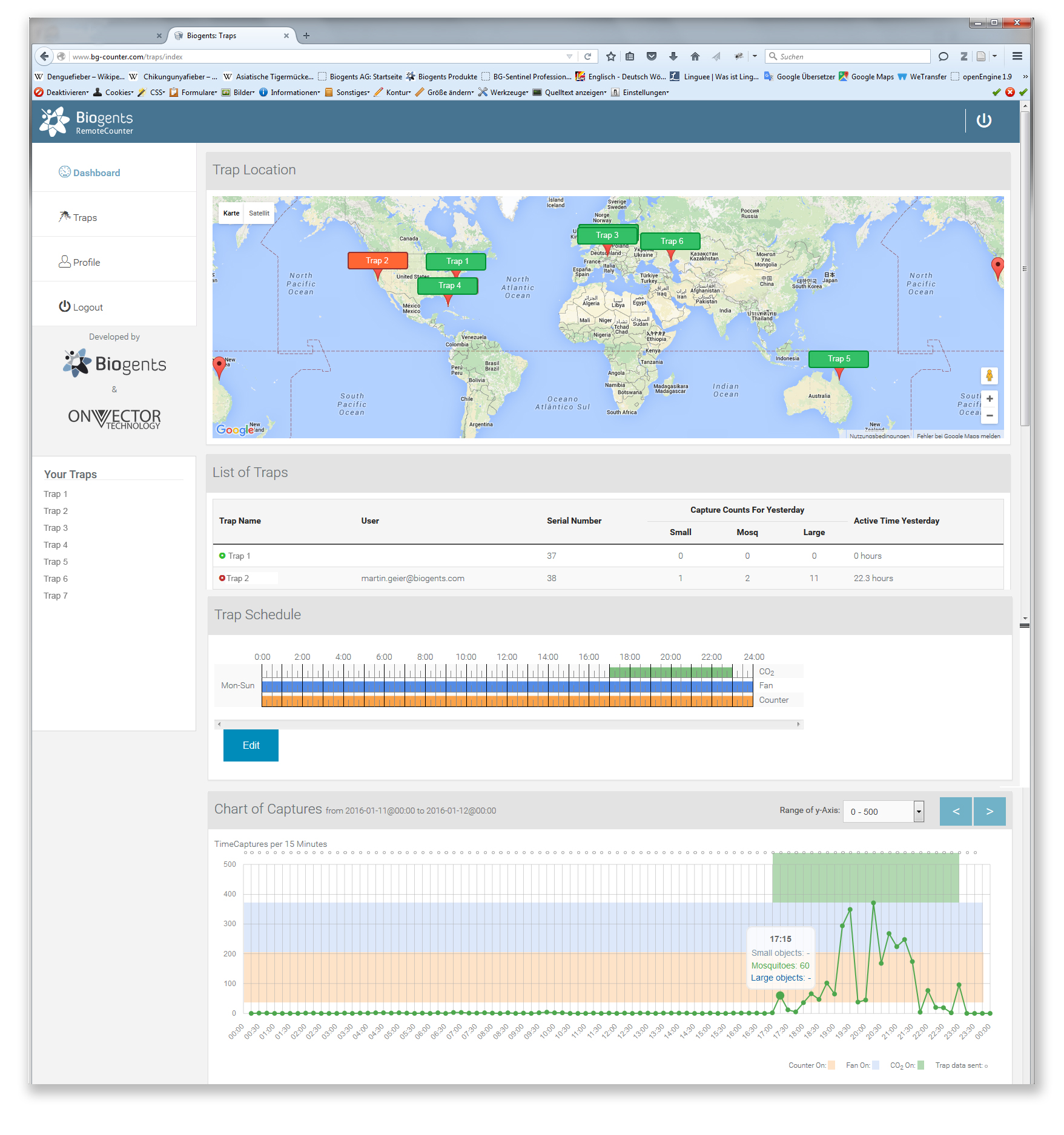 The BG-Counter system is supported by a web-based database for storage of mosquito counts, geospatial and environmental data. The data base is automatically updated with the data constantly generated in the field.
The data can be accessed, displayed and analyzed by the end user in a cloud-based dashboard. They can also be exported to Excel at the push of a button. The intuitive graphical user interface can be accessed from PCs as well as smart- phones and tablets.
The image on the right side depicts a combination of several displays of the user interface.
---
Technical Details

The patented insect sensor consists of arrays of infrared LEDs and light detectors that provide reliable and sensitive detection and differentiation of moquitoes from other objects entering the trap.
The heart of the BG-Counter is a highly integrated printed circuit board which incorporates:
An infrared sensor,
environmental sensors for temperature, relative humidity and ambient light,
a cellular module for communication with the web server,
an SD card for onboard data storage, fan and CO2 valve control,
two powerful microprocessors for control and communication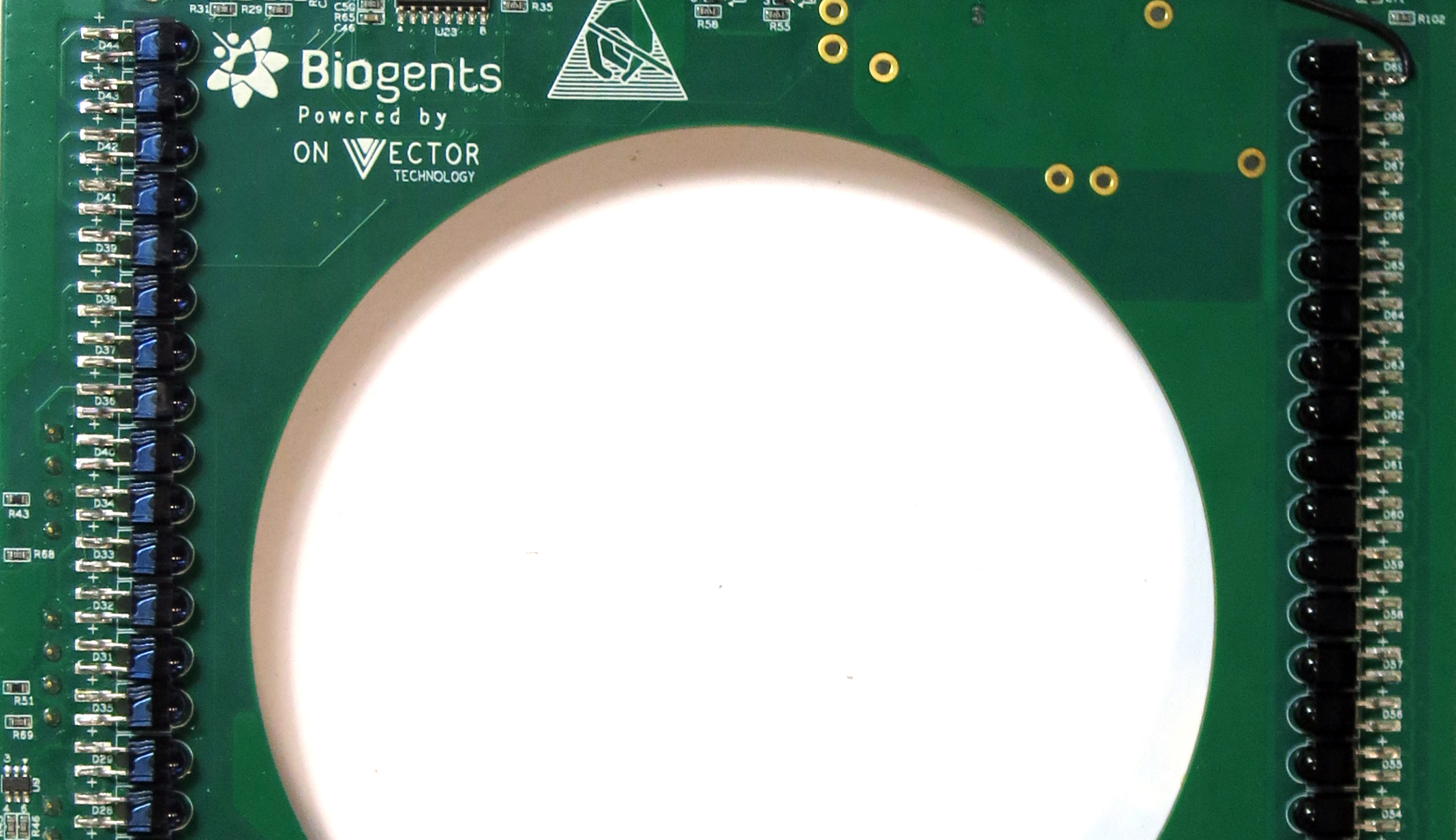 ---
Order Inquiries
Interested? For order inquiries, please contact  Jennifer McCaw, Head of Sales and Customer Relations.
---
Downloads

  Manual for the BG-Counter >>

  Info flyer about the BG-Counter >>

Trouble-shooting: More counts than catches? >>
Customer Experiences:
Sacramento-Yolo Mosquito and Vector Control District:

Reed M., Wheeler S., Dritz D., Samer Elkashef S.: Utilizing New Technology for Mosquito Surveillance: The BG Counter Trap- A Game Changer, oral presentation at the AMCA 2019

 Kartzinel & Clifton: Real-Time District-Wide Surveillance with the Biogents BG-Counter (from the Collier County Mosquito Control District, Florida, USA) – oral presentation given at the Annual Meeting of the AMCA, 2018

 Boisvert et al.: BG-Counter : A very efficient multi-task tool (from the Placer County Mosquito & Vector Control District, California, USA) – oral presentation given at the Annual Meeting of the AMCA, 2018

Boisvert M.: Study of the behavior of Culex tarsalis in a rice field environment using a BG-Counter; (from the Placer County Mosquito & Vector Control District, California, USA) – oral presentation given at the Annual Meeting of the AMCA, 2019

 Willis S.: Use of the Biogents BG-Counter With Gravid Mosquitoes and the Efficacy of Aerial Applications for Nuisance Mosquitoes (from the Calcasieu Parish Mosquito Control, Louisiana, USA) – oral presentation at the Annula Meeting of the LMCA, 2017
---